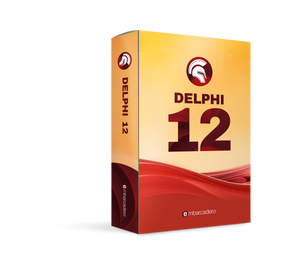 Delphi Architect
Embarcadero
Regular price £5,499.00 £4,091.26 Sale
All prices are ex-VAT.
Delphi
Delphi® is the world's most advanced integrated IDE for rapid development, with
powerful features and award-winning visual design tools for building modern
high-performance native applications for multiple platforms. Efficiently use a single
codebase to rapidly develop and maintain blazingly fast, visually and technologically
impressive apps for billions of users on Windows, macOS, iOS, Android, and Linux.

Consistently deliver projects on time and under budget by leveraging a rich ecosystem
of database access components, data binding technologies, and best-in-class
comprehensive Windows desktop UI library. Features that deliver 5x development
productivity makes Delphi® a favorite among independent developers to enterprise
development teams.
Get a free trial here.
Architect Edition
Embarcadero Delphi Architect is the fastest way to build and update data-rich, hyper-connected, visually engaging applications for Windows 10, Mac, Mobile, IoT and more.
Quickly and easily update VCL and FMX applications to Windows 10 with the new Windows 10 VCL Controls, Styles, and Universal Windows Platform services components.
Architect Edition provides visual data modelling with ER/Studio Developer Edition to help developers get the most value out of enterprise databases and data structures.
Buy your Delphi 12 Athens Architect licence now!
UK and Ireland only.
Grey Matter is proud to be an Embarcadero Master Reseller!
New licences only; if you want to renew, please contact our Embarcadero licensing team. Call +44 (0) 1354 655123 or email embarcadero@greymatter.com.